Part of MSA Export Activities
1. Azerbaijan - Refinery equipment; Steam boiler
2. Bangladesh - Steam boiler; LPG tanks; Storage tanks, the huge Shisha bridge
3. Belgium - Air conditioner
4. Cyprus - Mobile liquefied gas tanks
5. Turkmenistan - Refinery equipment, Steam boiler
6. France - Cranes and oil wellhead parts
7. England - Flanges of the oil industry
8. Oman - Steam boiler
9. Jordan - LPG tanks
10. Italy- Crane
11. Korea - LPG tanks
12. Kuwait - Steel flanges, Steam boiler
13. Pakistan - Mobile liquefied gas tanks
14. Belarus - Steam boiler
15. Afghanistan - Steam boiler
16. Pakistan - Clifton Strategic Bridge
17. Qatar - Pressure tanks and boilers
18. Saudi Arabia - Flanges of the oil industry
19. Sudan - Boilers, fixed and mobile gas tanks
20. Syria - Steam boiler, Crusher hammers
21. UAE - LPG tanks, Oil equipment
22. Yemen - LPG tanks, Oil equipment
23. Sri Lanka - Heat exchangers
24. UAE - Steam boiler, Flanges of the oil industry
25. Iraq - Steam boiler, Bridge
In addition to the above list, MSA Co. has exported other products to the target countries in addition to the above list, such as crusher hammers, train wheels, heat furnaces and cylinder filling machines and the like. Due to the impossibility of describing all export items, only two specific examples of export projects are mentioned:
Pakistan Clifton Bridge, a huge export project
Technical features and limitations:
1- Two streets named "Zia-ud-Din Ahmad" and "Khaliq-e-Zaman" located at both ends of this bridge are not in the same direction.
2- Blurred and variable geometry of the bridge in the form of horizontal arches with radii of 200 and 300 meters and transverse rotation of two horizontal arches and four vertical arches.
3- A height distance of 16 meters from the rails of an old railway line and the flight of this bridge from the railway bridge.
4- Accurate technical calculations, while observing aesthetic factors in urban facilities.
5- Including 6% slope in calculations and construction of this project.
6- Observing the permitted distances of the bridge from the neighboring buildings and apartments, in terms of urban planning engineering laws and environmental factors.
7- Designing the best type of connection between Clifton Bridge and side streets from the following paths.
Project Supervisors: Two British companies, Scott Wilson and Kirk Patrick, approved the design, technical calculations, and oversight.
Bangladesh 50,000 barrel tanks
This project included the design, construction and installation of two 50,000 barrel floating roof tanks in Bangladesh. The implementation of this project was in the form of EPC and included all civil operations, including paving (due to continuous rainfall and slippery ground layers at the installation site of the tanks), concreting the floor and finally the installation and commissioning of the mentioned tanks.
One Million Barrels Tanks at Chita Gong Refinery (Bangladesh)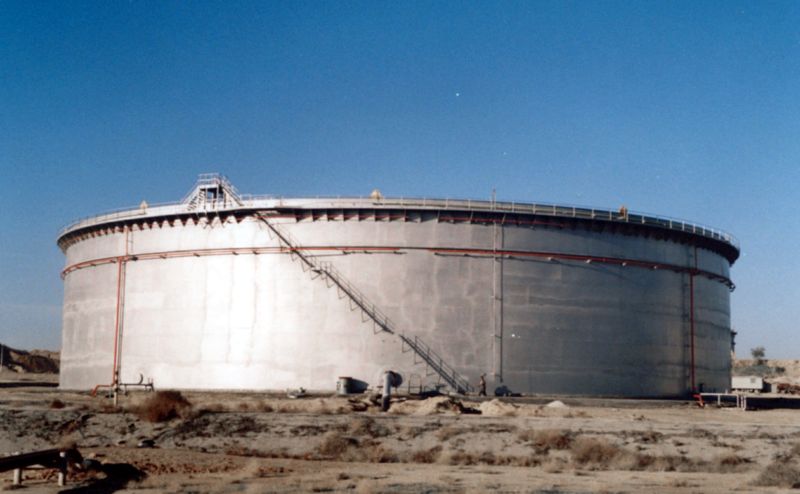 Double Deck & Floating roof, inadequate access to technical facilities on site, frequent street strikes in Chittagong, torrential rains, swamps and seasonal storms were some of the problems with the project. Landscaping, foundation laying, installation and commissioning of this 3,000 ton project, after the hydrostatic part, was successfully handed over to the project employer, the Government of Bangladesh.
Export of 40 mobile tanks to Jordan
The design, construction and installation of liquefied natural gas storage tanks on bogies. It is noteworthy that each of these tanks had a capacity of 12,000 gallons of liquefied gas.
9800 gallon LPG tanks exported to Pakistan
These tanks were also produced and exported to Pakistan by the order of Pakistan Foundation Case Co. in an international tender. The capacity of each of these mobile tanks was 9800 gallons of liquefied gas.